In the latest addition to our healthy recipes, Top Medical Magazine shares a recipe for a healthy dessert that you can prepare for your at-home Valentine's Day date. This low-carb chocolate pudding recipe is very easy to prepare and the ingredients can now be found at most grocery stores or online.
Scientists have discovered and validated some health benefits of cocoa, chocolate's key ingredient. These benefits include helping the body to release neurotransmitters like phenylethylamine and serotonin, hormones that give you the feeling of being happy — such as when you're in love! This is why the intake of flavanol-rich foods like chocolate improves mood, provides antidepressant effects, and helps reduce stress.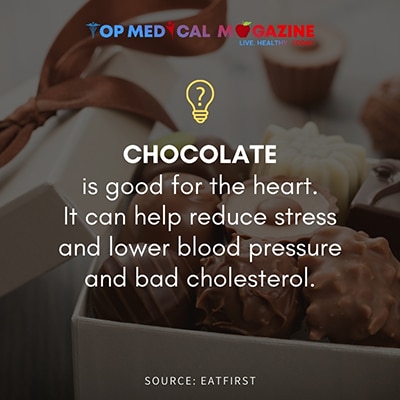 It is said that the higher the cocoa content, the more benefits there are — just like in dark chocolates. Dark chocolate is loaded with organic compounds that are biologically active and function as antioxidants: polyphenols, flavanols, and catechins, among others. Dark chocolate may also contain less fat and sugar, but it is important to still eat chocolates in moderation.
This Low-Carb Chocolate Pudding recipe creates a decadent dessert that is perfect to make and serve for your loved ones on Valentine's Day (or just any day to show them your love and appreciation)! This rich pudding is fast and easy to make and can be part of a low-carb, keto, or Atkins diet.
PREPARATION TIME: 5 minutes
COOKING TIME: 5 minutes
COOLING TIME: 5 minutes
SERVINGS: 4
Ingredients
1/4 cup granulated organic stevia
1/3 cup unsweetened cocoa powder
2 teaspoons organic glucomannan powder or konjac root powder
1/8 teaspoon sea salt
2 large egg yolks
1/2 cup heavy whipping cream
1 1/2 cups unsweetened original almond milk
2 teaspoons vanilla extract
Instructions
Sift the sweetener, cocoa powder, glucomannan powder, and sea salt into a large saucepan.
In a medium bowl that you can pour from, whisk the egg yolks until smooth. Gradually stir in the heavy whipping cream and almond milk.
Gradually add the wet mixture to the dry mixture, a little at a time, while whisking constantly. Place the mixture over medium heat. Cook, whisking constantly, until the mixture just simmers. Remove from heat immediately.
Allow to cool 15-20 minutes, then whisk in vanilla extract. Pour into 4 dessert dishes. Cover the dishes while still warm, then refrigerate. Covering the dishes while they are still warm helps prevent a skin from forming on top of the puddings.
Refrigerate 4-5 hours to set. Garnish with whipped cream, strawberry, or sprinkles of chocolate if desired.

Don't miss any of our informative health articles — subscribe to our newsletter now! Follow Top Medical Magazine on
Facebook
,
Instagram
, and
LinkedIn
to stay updated, too!
---
Original low-carb chocolate pudding recipe from Simply So Healthy.